'PR' Rocky Boy Blue
'Rocky' is a medium size, stocky, 69 lb. blue male with a 23 inch head at one year old. He is out of CH 'PR' Pantara's Zeus and 'PR' Faris' Tiny Blue, and is pictured here with 7 year old Cidney. Rocky has natural ears and a confident temperament. His favorite toy is a large rope Booda bone. He also likes to watch TV- especially Animal Planet and Animal Cops. Rocky is owned by Tronika & John Abad of Bremerton, WA.
50% Hawaiian, Pantara, Outlaw bloodlines.
Rocky is pictured above at his first UKC show on 12 June 05. The show was put on by the Toy Fox Terrier Club, and held in Lacey, WA. Rocky placed 2nd in the Junior 1-2 yr. class, and seemed to enjoy every minute that he was in the ring. Congratulations to John Abad and Rocky ! See Rocky's web site and more pictures at http//rockyboyblue.tripod.com/
Pictured left
Arrow with his owner Jessica Odden of Poulsbo, WA. Arrow is a LeiLani/Zeus male pup. now 70 lbs. He is a friendly dog and loves to play. His favorite game is to flip his ball in the air and catch it. Arrow's playmate is Jessica's female boxer mix Sadie.
Serendipity's Breakin the Rulz CGC
call name: Casanova Mr Personality.
Owned by Richelle Irving. Pictured below.
International Dog Show - Enumclaw, WA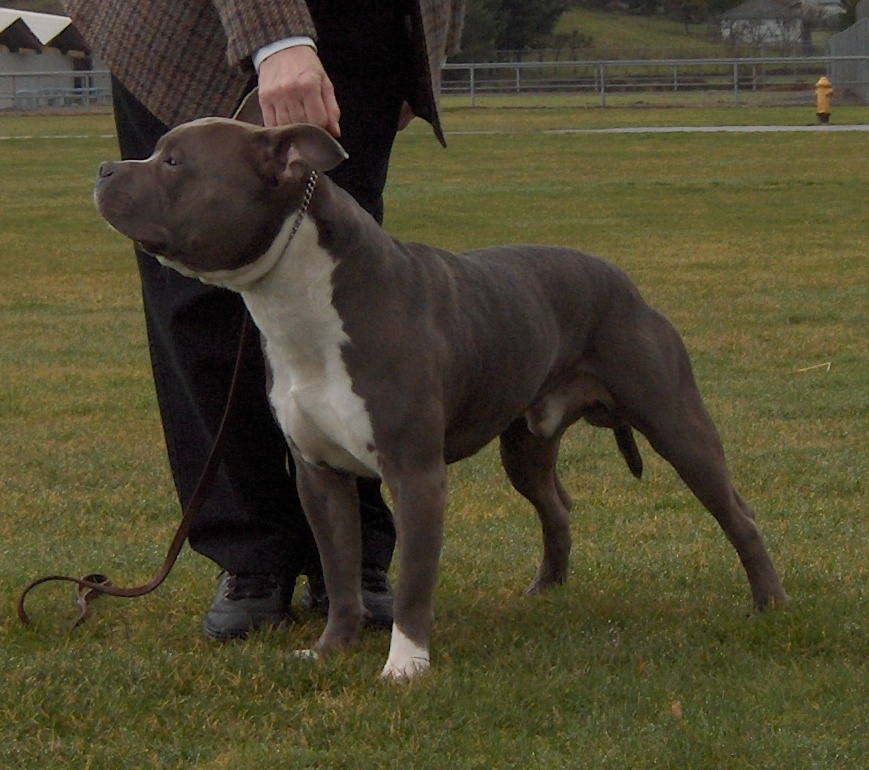 16 Feb 08 - Canine Good Citizen certificate
'Bishop' Puppy # 7 Pictured below on 03/26/06, male, blue/brindle. Sold to Stephen & Tina Taylor of Port Orchard, WA. Bishop loves to go for rides in the car, and his favorite toy is a Jolly ball. (LeiLani x Zeus 2nd litter)
Bishop at weight 68 lbs
26 March 2006
'Achilles' Pictured below. blue male Picture taken on 26 May 06. A large puppy at birth, with a big head and chest. Owned and loved by Cheryl. (LeiLani x Zeus - 2nd litter)
Baloo & DJ - Dec 05